The shipping solution for
Quick, easy and affordable
To help you manage your shipments
Easily and quickly manage your shipments with our convenient management system. Simply fill out the shipping label, and track your shipments from anywhere. Get the best service available! Never miss an update and monitor your shipments at all times. Our system allows you, among other things, to:
Estimate the cost of a shipment
Create labels
Track your shipments in real time
Confirm shipments to your customers
Create shipping manifests
Manage your address book
Track your invoices
Offer returns
Schedule pick-ups
Simple and easy integration
You'll be ready to ship in no time
Our easy-to-integrate API is ready for you. Automatically receive your shipping information and monitor your deliveries using the dashboard. Simply pack your orders, then print and affix the shipping label on the packages. Pick-up requests will be sent automatically. Our support team is there to help your web developer integrate our API to your Shopify or Woo Commerce platform.
Offer stress-free delivery to your customers.
With 63% of Quebeckers shopping online in 2019* and the COVID-19 pandemic disrupting buying habits, e-commerce is becoming an essential component of your business. You must find a trusted partner who will ship your products. Set yourself apart from your competitors when offering delivery to your clients thanks to our highly competitive rates and fast shipping. Build a loyal and satisfied customer base with our exceptionally reliable shipping service.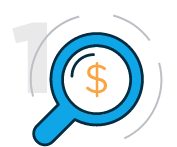 Highly competitive prices
We are a shipping agency and our shipping volume gives us access to the best rates in the industry. This allows you to either charge low delivery fees or offer free shipping to your customers, which is a key factor for 80% of Quebeckers.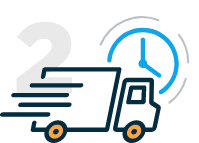 Express shipping
Provide optimal customer experience with quick next-day delivery. Convince your customers that you are reliable and offer an exceptional service with fast shipping. Satisfied customers will generate positive word-of-mouth and increase retention.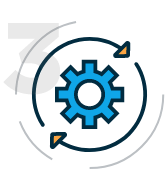 Automatic notifications
When an order is placed in your online store, the buyer's shipping information is sent automatically to your system, which will generate the pending shipping label. All you have to do is print the label and affix it to the packaging. A follow-up email is automatically sent to your customer.
Turn opportunities into
concrete results
Create a unique online experience for your customers
We pick up when you are ready
Choose the time and location that work best for you
Preparing the delivery slip is the most crucial step to ensure quality service. When an online purchase is placed, the order is sent automatically to our system and shipping information is created. But you remain in full control of the shipping schedule!  You decide when your parcels will be picked up for shipping. You also have the option to include free return labels with your shipment. You won't pay for them unless they are used.
Provide a superior experience to your customers
Close monitoring and great expectations
77% of Quebeckers want to be notified of the delivery of their parcel (according to a 2019 study*). In addition to receiving email notifications when payment is completed, label is generated and shipment is picked up, you can also get delivery notifications. Using their unique tracking number, your clients will also be able to track the delivery of their parcel, have an expected delivery date and more. Don't miss a chance to make a difference with your customers.
You and your customers will be notified when:
The label is generated
The parcel is picked up
The delivery is completed
Try our low prices
today!
Free sign-up and user-friendly estimating tool